Why Buy a Swiss-Style Turning Machine?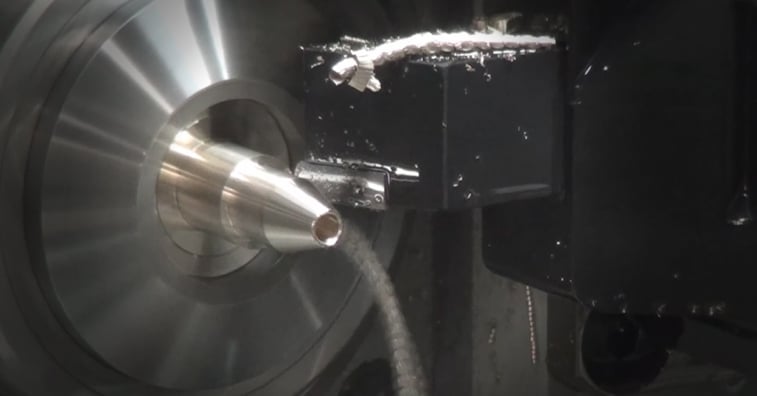 High precision machining and high volume production don't always go hand-in-hand. That's why Swiss watch makers developed sliding headstock turning machines that achieve both goals.
What has come to be known as a Swiss-style turning machine differs from its fixed headstock brethren in a fundamental way. With a Swiss-style machine, bar stock feeds through a guide bushing past a stationary cutting tool, whereas fixed headstock lathes hold rotating workpieces while the cutting tool machines by moving across the part.
Why does this difference matter? Because in a Swiss-style machine the cutting tool works close to the bushing, which means the workpiece is better supported thus reducing vibration and tool deflection. This is especially significant when machining long, small diameter parts.
Moreover, when coupled with an automatic, high-capacity bar feeder, Swiss-style lathes are ideal for unattended and lights-out production. All of which makes these machines excellent choices for making high-volume parts used in sensitive measuring instruments, dental implants, medical products, certain aerospace applications and, of course, chronometers like those coveted Swiss watches.
There are a number of important considerations when selecting a Swiss-style turning machine. Among them are:
Guide bushing and spindle construction. These are key components for the machine's ability to hold tight tolerances, and require both careful craftsmanship and extremely rigid materials.
Stability and precision. Swiss-style lathes with direct drive create less vibration than belt-driven machines, while the use of linear guides allows smoother, more accurate motion.
Smooth, flat guiding surfaces. Achieving sub-micron unevenness through hand scraping techniques yields greater stability and reduces vibration.
Overall ruggedness. Look for construction details such as heavy-duty ball screws that more efficiently transfer power from the motor to the headstock.
User support. Like any machine purchase, it's important to have readily available training, applications assistance, replacement parts and service technicians.
If you're looking for a Swiss-style or other machine tools contact your local Gosiger facility. With 95+ years of experience serving manufacturers, the Gosiger team is uniquely qualified to help you boost productivity.