Vacuum Parts Washer Replaces 3 Cleaning Stations, Improves Quality Control & Provides Safer Workplace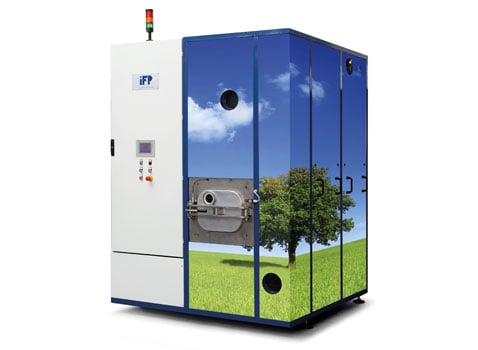 Plant Manager Steve Masters oversees an 86,000 square foot facility with over 100 machine tools that perform precision manufacturing of parts for aerospace, medical, power distribution and automotive industries.
Located in Round Pond, Maine, Masters Machine Company may be more than 60 years old, but it prides itself on continuously investigating and integrating new technologies that will improve performance and productivity.
Mr. Masters is part of an internal group that identifies and prioritizes capital investment targets. "We don't just replace or add machine tools, we also look at all phases of our processes to find opportunities for improvement."
One of these areas is the often overlooked task of cleaning parts after machining. Masters Machine is AS9100, ISO-9100 and ITAR registered, and many of the parts the company makes require critical inspection using CMMs, vision systems and optical comparators. "We make some parts that have a number of complex features, such as large braking components for busses with several ports and blind holes that must be thoroughly cleaned before inspecting.
We wanted a single system that would replace our three parts cleaning stations, require less labor, and clean parts more completely. After looking at several options, Gosiger High Volume introduced us to the iFP Kleen Power vacuum cleaning system. It checked all of the boxes, including keeping the workplace safe from cleaning solvent vapors."
The iFP system provides safe, solvent-based cleaning for complex parts with such features as ID threads, blind holes and cross holes that aqueous-based cleaners can't thoroughly clean. The programmable system cleans parts in a sealed chamber using hydrocarbons or modified alcohol-based solutions. These cleaning agents are internally recycled through a distillation process that protects the workplace environment and reduces costs by recapturing and reusing the solutions.
To accommodate a wide variety of parts, the system can combine spraying, immersion, submerged jets, ultrasonic and vapor cleaning options either statically or by adding oscillation and/or rotation. Once the user establishes a cleaning regimen, the program is stored and can be easily recalled as needed.
"We've had the iFP system in operation for two years and couldn't be more pleased. It achieved all of our goals. We seriously considered some competitive products, but Gosiger had such in-depth knowledge, understanding of our requirements and experienced technical staff that it made the decision much easier. We had worked with Gosiger before and we knew we could trust them to give us the support we wanted."
To learn more about iFP vacuum parts cleaning systems, contact your local Gosiger facility. You can also download the free white paper Cost-Effective Parts Cleaning