CNC Shop Execs Discuss Manufacturing's Future, Hear Top Shops Report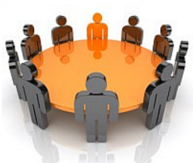 Wishing to gain insights into the key issues facing CNC machine shops, Gosiger, Inc. recently sponsored a roundtable discussion among a dozen shop owners and managers in southeast Ohio. The event was held at the Aileron center for business development, north of Gosiger's Dayton headquarters. Participants also heard a presentation by Gardner Business Media Senior Editor, Derek Korn, about the findings of the most recent Top Shops survey conducted by Modern Machine Shop Magazine.
Each participant manages a CNC machine shop. Collectively they make parts and products for a wide variety of industries including automotive and specialty machines. When asked about the key concerns that "keep them up at night," there was general agreement that recruiting and motivating production workers, training personnel, and needing helpful information on technologies and processes that can improve productivity are at the top of the list.
Not surprisingly there was quite a bit of discussion about the difficulty in filling shop floor jobs. Among the concerns raised:
Smaller shops can't compete with large companies that snap up available talent
Misconceptions about modern work environments, pay and advancement opportunities keep young people from pursuing careers in manufacturing
Formal education in machining is limited and seldom offers enough hands-on experience
Apprenticeship programs are good in theory but cost prohibitive for many small shops
Once a shop hires a new employee, they are faced with training and motivation issues:
There is a feeling that OEMs and equipment dealers could offer more real-world training
Financial incentives have limited success and are difficult to administer
A major challenge is achieving consistency in job costing, due to fluctuations in worker performance and different outcomes when various machinists work on the same job
When asked which technologies the shops are currently using or evaluating to improve production efficiencies, the top items cited were:
Multi-tasking machine tools
Quick-change tooling, mounts and fixtures
More sophisticated machines and controls that take the guesswork out of machining
Additive (3D printing) is seen as important for prototyping and low volume production, and will likely become more important in the near future
We also asked the participants what initiatives they are in the process of implementing right now. The focus is clearly on improving internal operations and processes. Among many topics discussed were:
Team integration leading to better cost estimation
Improving inter-department communications
Daily meetings to catch stopgaps on specific projects. This reduced the problem solving process in one shop from 4 weeks to 7 days
Implementing new machine tools and software
Improving data management and usage
Encouraging sharing information and not being afraid of negative consequences
A significant finding from this event is that CNC shops would like to see more help from OEMs, equipment dealers, tooling suppliers, raw material sellers and other providers, beyond simply delivering their products. To learn about the many value-added services Gosiger provides customers of all sizes, contact your nearest Gosiger facility, and visit www.gosiger.com.