Can a Lower Cost VMC Deliver Quality & Reliability? Okuma Says "Yes!"
Vertical Machining Centers (VMC) come in all shapes, sizes and prices, and sometimes we're tempted to go with the lowest-cost option. However the initial price of a machine tool is only one part of the total cost. Excessive repairs, slow cycle times, complicated setups and programming, and rapid depreciation all add to the overall cost of ownership.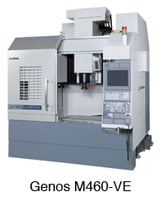 So what we should be looking for in a new, lower cost VMC is total value. And that's precisely the concept behind the GENOS Series of machine tools from Okuma.
These affordable, entry-level VMCs are engineered and built to Okuma's high standards and include the open architecture, PC-based THINC-OSP control that not only makes setups and programming more intuitive, faster and easier, but also insures complete compatibility with other Okuma machines.
Like all Okuma products, these VMCs have extremely rigid and stable bases to insure high performance without sacrificing accuracy and repeatability. Plus, GENOS VMCs include Okuma's Thermal Friendly Concept that prevents temperature variations from affecting workpiece quality.
The GENOS M460-VE is ideal for smaller workpieces with a maximum measuring volume of 30.00" x 18.11" x 18.11", a 32-tool magazine capacity and 15,000 rpm spindle speed.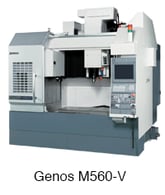 For larger parts the GENOS M560-V has a maximum machining volume of 41.34" x 22.05" x 18.11", rapid transit of 1575 ipm for the x- & y-axis, and 1262 ipm for the z-axis. With spindle speed of 15,000 rpm and 32-tool capacity, this VMC efficiently machines materials from aluminum to titanium while maintaining finish quality.
Equally important is that these affordable VMCs are backed by Gosiger's proven technical service and customer support. From installation, training and applications assistance, to preventative maintenance and readily available replacement parts, Gosiger's 90+ years of machine tool experience insure that your GENOS VMC delivers peak performance that will boost your productivity and profitability.