Automation & Industry 4.0 at IMTS 2018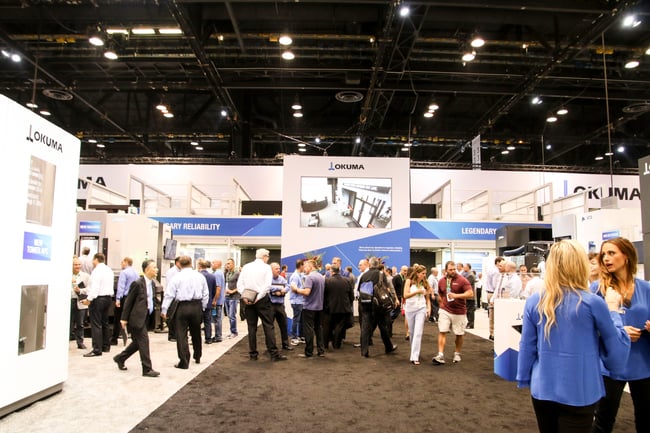 A universal goal of the more than 130,000 visitors to IMTS 2018 (September 10 – 15) was improving the performance of their manufacturing operations. Much of what they saw had a common theme: The continuing evolution from focusing on discrete machines to bringing together various manufacturing technologies, such as traditional subtractive, laser, additive and digital connectivity.
This is, of course, an important component of Industry 4.0 that seeks to integrate automation solutions to make possible unattended and lights-out production that reduce cost-per-part and material waste while allowing better use of machine operator time.
Examples of this concept abounded, including the Okuma Laser EX series multi-tasking machines that incorporate laser metal deposition (LMD) technology for additive, as well as 5-axis subtractive manufacturing.
This unique approach enables a CNC shop to use 5-axis machining on a complex workpiece and then create additional features using additive deposition to combine different metals such as Inconel that is 3-D printed onto a stainless-steel base. In addition, a Laser EX machine can perform grinding, heat-treating and coating using the high-output, stable laser.
Another illustration is the use of an Ethernet communications system, to bilaterally share information between an automatic bar feeder and a CNC machine tool's master production schedule for on-the-fly, unassisted changeovers, monitoring of material usage to minimize waste, and enabling of lights-out production.
If you'd like to learn more about integrating manufacturing technologies to improve your CNC shop's productivity, contact your local Gosiger facility.