7 Tips for a Successful Visit to IMTS 2018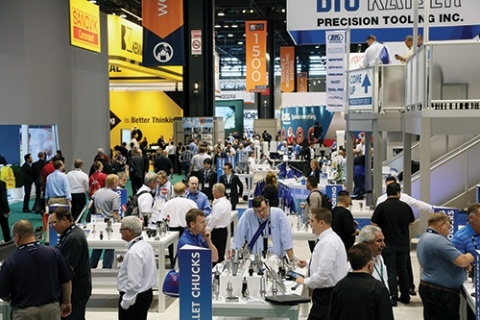 With more than 2400 exhibitors, 1.3 million square feet of exhibit space and over 100,000 visitors, the prospect of attending IMTS 2018 can be overwhelming. Of course, the advantages far outweigh any concerns. IMTS is the one place to see all of the latest manufacturing technology, meet with industry experts and attend seminars on the hottest topics.
Getting the most out of attending IMTS is easier with a little advance planning. Here are 7 things you can do to make your time there more productive and enjoyable.
Be sure to pre-register

well in advance. This will save you time when you arrive and prevent any confusion at the sign-in booth. Waiting until the last- minute means standing in long lines when you could be visiting the exhibitors you came to see.

Likewise,

book your hotel room

Using the IMTS

visitor housing

service assures you the best rate at a hotel with shuttle service to McCormick Place. Waiting too long may mean staying at housing that requires a lengthy commute. Again, this wastes time you can spend achieving your goals for the show.

Speaking of

goals

: Think about what you really want to accomplish at the show. Are you looking for new equipment? For ideas on how you might improve your manufacturing processes? Want to become aware of new technologies that can help shape your future? Identify trends that could impact your shop? A clear understanding of your goals enables you to use your time at the show wisely.

Put a plan together

that maps out the exhibitors you most want to see, the seminars you want to attend and personal contacts you want to make. A good starting point is the

MyShow Planner

tool you can access on the IMTS Web site. It helps you find the exhibitors you want to see, organizes your path throughout the venue and much more.

Set appointments.

If there are specific products or applications you want to discuss with exhibitors, contact them beforehand and schedule an appointment. Otherwise, getting in front of the right person may be a hit-or-miss proposition.

Bring or send the right employees

. Attending a trade show like IMTS comes with a cost, so be thoughtful about which of your staff should attend. Along with employees with a first-hand knowledge of what you're looking to accomplish, you may want to include newer employees who would benefit from being exposed to the latest manufacturing tools and techniques.

An often-overlooked benefit of attending a major exhibition like IMTS is the opportunity to meet with non-competing peers who face the same challenges as you. This is a great opportunity to share ideas and learn from one another. You can even develop ongoing relationships with like-minded manufacturers that benefit both of you.
While at IMTS 2018, be sure to visit the Gosiger booth: South Building, Level 3, Booth 339266. You can also meet Gosiger personnel in Okuma's booth: South Building, Level 3 Booth 338500. For more information, contact your local Gosiger facility