5 Tooling APPs That Will Save You Time & Money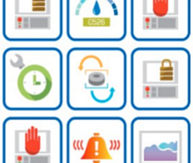 You can download these and other free APPs from industry-leading tooling company, Sandvik Coromant, here.
Enter your own production values into the Manufacturing Economics Calculator App to calculate how using the right cutting tool impacts your cost-per-part and gross profit to find hidden productivity potential.
The APP, Turning Multi Materials, enables you to choose materials, operations, applications areas and component size for customized tool selections that will increase productivity and tool life.
The Milling Calculator APP supports engineers, programmers and machine operators with machining and cost calculators. Includes a material database.
Similarly the Turning Calculator APP includes machining and cost calculations and the ability to compare two different solutions to see how changing the cutting parameters affects the outcome. Also includes the material database.
The Insert Identifier APP lets you input specific cutting tool grades and geometry to see which inserts will optimize your machining operation.
Having the right cutting tools can make a significant difference in your production costs and efficiencies. So can having the right machine tools. For expert advice on all CNC machining matters, contact Gosiger or visit www.gosiger.com