Step-by-Step Setup of the Okuma Soft Jaw Process
All Okuma turning centers with an OSP-P300 or later control include a soft jaw process program. Like many such programs, knowing a few shortcuts can save a lot of trial-and-error time. In this video, a Gosiger West Coast Okuma specialist takes you step-by-step through the setup.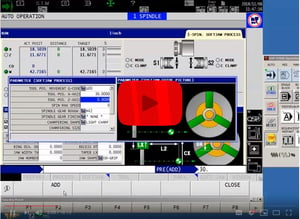 You'll learn where and how to populate all of the necessary values and see the results right on the control's screen. Once all of the values are entered, the screen changes to display the entire G code you've created as well as an animation of the complete process.
The narrator shares tips along the way to make setting up the process quicker and easier.
For more than 95 years Gosiger has helped CNC shops of all sizes improve productivity through the latest manufacturing technologies, service and customer support, including training on Okuma and other partner products. To learn more contact your local Gosiger facility.