In January 2021 MODIG Machine Tool applied for a new patent on a paradigm­ shifting machine tool innovation. We are proud to present the world's first Inverted machine tool.
Thinking new is not so new to MODIG. It is a continuation of its decades-long technological leadership position and trend-setting machine tool designs. With this world's first inverted machine tool line-up. MODIG is transforming the way we will think about generic 5-axes part and component machining. So, let's think inverted!
What is inverted machining?
The short answer would be that an inverted machining center is a vertical machining center, turned upside down. A machine that machines from below or from the bottom on up-so to speak. But there is a more complex answer to it in that it constitutes a radical departure from traditional machining.
Increased demands on machining!
Today's manufacturing is signified by ever more closely geometric part tolerances, part and component complexity and faster production times. Manufacturing companies are scrambling to meet these demands with traditional processes, either vertical milling machines (machining from above over the workpiece) or horizontal milling machines (machine spindle engagement from the side).
Clearly, there is an acute need for enhanced solutions.
The MODIG solution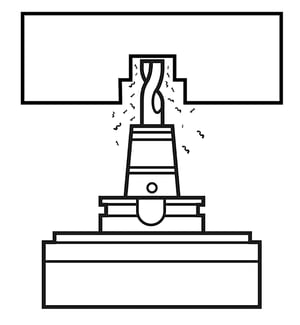 In search of elevated machine tool performance and precision, MODI G's out of the box thinking and applied engineering expertise led to a radical departure from existing machine designs. Numerous machining simulations and beta testing, demonstrated that tool engagements from below the parts yielded excellent chip control at elevated removal rates and that such a machine design offered optimum machine dynamics and stability.
The inverted machining center with all its inherent machining advantages over traditional processes was born - the MODIG way.
The all new, inverted machines feature:
Optimized chip handling.
Extreme fast cut-to-cut times.
Monolithic structures for absolute dynamic and thermal stability.
Equal and stable load distribution for vibration-free cutting.
Overall compact design with minimum floorspace.
Easy side by side machine expansions for cell operations.
Tomorrow's Technology Today
The innovative MODIG machines guarantee end-process reliability, excellence in volumetric accuracy, elevated machining parameters and upgrades for Best in Manufacturing Practice in Cost­-Quality-Time.
About MODIG Machine Tool
MODIG Machine Tool was founded in 1947 in Virserum, Sweden with the focus on building best-in-­class machines. Modig lathes, universal drills and machining centers became well known throughout the world. During the 1980s, Modig started to develop high speed machining centers, and since the production of the first HSM in 1987, Modig has continuously redefined the world's machining standards. Today, Modig is still family owned and celebrated as one of the world's leading companies in manufacturing premium performance machining centers. With over 11,000 machines sold worldwide, the Modig brand is a trusted partner for your business.
In Swedish MODIG means brave and this is demonstrated through our innovative efforts, our cutting ­edge technologies and unmatched standards of excellence. There is no room for compromise in Quality and Performance.
We call it the MODIG way ...