Considering 5-axis Machining?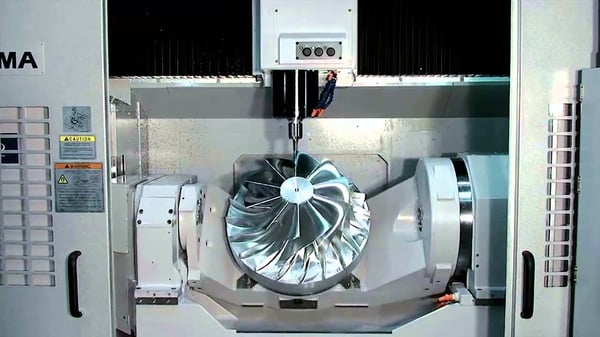 Any CNC shop can benefit from 5-axis machining. Whether or not you currently work on multi-sided parts or want to open the door to new customers that require machining on 5 or more sides, the advantages of 5-axis machining are many:
Reduced labor costs because you no longer need to move the part from one machine to another and perform multiple setups.
Less out-of-pocket cost for fixtures and tool sets.
Ability to perform additional operations, some of which may have been performed outside of your facility.
Greater versatility enabling your shop to take on more complex and varied work.
Reduced inventory and WIP with one-and-done machining.
Less floor space and capital expense required as one 5-axis machine replaces 4 or more machines.
Of course, not all 5-axis machines are created equal. That's why you need to be certain the machine you choose has the most important characteristics that insure optimum performance, reliability and long life. Some of these factors are:
Ease of programming. Along with the greater flexibility and tool path options, 5-axis machines offer is the need for more sophisticated programming. This requires a user-friendly programming interface and the computing power necessary to easily run simulations and setups. Since most 5-axis machine users work with CAD/CAM, it's also critical that the machine's control system flawlessly interfaces with this software and allows the machine operator to tweak the CAM files for improved results. Okuma's OSP-P300A control is an open-architecture Windows®-based platform that takes the guesswork and much of the labor out of 5-axis programming.
Power & Rigidity. High accuracy machining requires a 5-axis machine with a rigid spindle and tool holder that eliminate troublesome vibrations. It's also important that the machine maintains a constant cutting feed rate and that the control provides consistent acceleration and deceleration, while quickly processing data.
Avoiding collisions. A minor programming error could lead to costly crashes that waste time and materials. A 5-axis machine equipped with a collision avoidance system is more of a necessity than luxury.
Handling the heat. Insuring that the multi-sided parts being made on a 5-axis machine don't fall victim to thermal deformation requires painstaking tests and analysis to compensate for the heat created by the machining process. Unless the machine is designed to automatically compensate, as with Okuma's Thermal Friendly Concept .
Technical service and customer support. 5-axis machining requires more than excellent equipment. It also requires operator training, readily available maintenance parts and responsive technical service. That's why your 5-axis machine should be backed by 24/7 technical support, experienced applications specialists, knowledgeable trainers, and millions of dollars in spare parts.
If a 5-axis machine makes sense for your shop, contact your local Gosiger facility where a team backed by 95+ years of manufacturing experience will help you choose the machine that best suits your requirements and provide complete peace-of-mind service and support.