Parts Washing Baskets for Every Application
With vacuum parts washing, baskets are necessary to hold your parts. Depending on the parts you are washing, there can be a lot of variables to consider when choosing the best basket, and your choice of basket may impact your results.
What Basket Design Options Are There?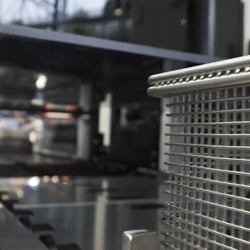 The KP.MODULAR SYSTEM baskets offer a sturdy and flexible option when washing your parts. These baskets come in 3 different sizes – small, standard and large – and are equipped with:
wide handles for easy handling
a sturdy lid with a strong spring handle to safely secure your parts
a reinforced double-steel rod on both the top and bottom of the basket
The KP.CUSTOM basket, designed for the KP.MAX, is built to hold heavy and large metal pieces. This basket has internal dividing panels to better contain the parts and allow for the bulk washing of multiple pieces. To meet every customer's need, each KP.CUSTOM basket is customized for individual load requirements.

Each basket comes with a variety of mesh options from as little as 1mm to 13mm to accommodate tiny parts. Depending on your part size, the size of the mesh you choose plays an important part in the overall quality of your parts.
Customized to Fit Your Needs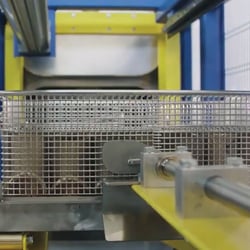 These baskets offer a lot of flexibility in what they offer to accomplish the best clean for your parts. If the three standard sizes don't fit your needs, iFP offers tailor-made baskets for extremely heavy and large-format pieces. If you are washing big parts, small parts or a combination of many different parts sizes and/or geometries, we can place smaller baskets into a larger basket to clean multiple part loads in a single cycle, saving you time and money.
Have delicate parts that can't touch each other? IFP works with several fabricators that customize the basket to your specific needs. The KP.PIN allows each component to be washed thoroughly. Thanks to its stackable PVC plate, it has 352 holes for attaching the "pins," which allows you to wash various part sizes and shapes simultaneously.
Which Basket Suits You?
Regardless of the size or complexity of the parts you're washing, our array of baskets provides a flexible solution tailored to your operation. Interested in learning more about vacuum parts washing? Our iFP Clean experts can provide you the support you need and create the perfect solution.